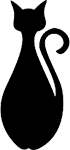 Delightfully classic combination of peach and cinnamon in a super-simple recipe!
Ready In: 1 hour
Servings: 12
Difficulty Level:
2 of 5 stars
Print
---
Recipe Variations: Substitute 1 can of cherry pie filling for peach pie filling and 1 envelope cherry drink mix (try Jolly Rancher 0.57 oz single) for 2 teaspoons ground cinnamon OR 1 can lemon pie filling + 1 envelope lemonade drink mix.
Ingredients
1 (18.25-ounce) package yellow cake mix
3 eggs
6 Tablespoons sugar
2 teaspoons ground cinnamon
1 (21-ounce) can peach pie filling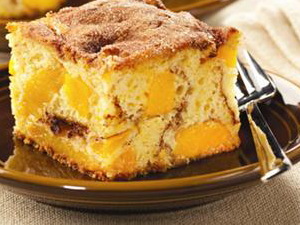 Directions
Preheat oven to 350 degrees F.
Blend together cake mix, 1/2 can of the peach pie filling and eggs in large mixing bowl. Beat with an electric mixer at medium speed For 2 minutes. Stir in remaining pie filling until well mixed.
In a small bowl, combine sugar and cinnamon. Spread half the batter in greased 9x13-inch baking pan; sprinkle with half the cinnamon-sugar mixture. Repeat with the remaining batter and cinnamon-sugar mixture.
Bake for 30 - 35 minutes, until wooden pick inserted in center of cake comes out clean. Cool.